Once you have successfully created a Happiest Baby account and joined the App, you will find the App home screen: Devices.
If you want to add a device, you can do so by clicking on the + near the top right corner of the screen. From there you can scan for a nearby SNOO or manually search for SNOO or SNOObie. Once you have paired a device to the Happiest Baby App, you can remotely control your SNOO and set routines on your SNOObie. 
Note: you can only pair one SNOO to an account, but you can pair multiple SNOObies.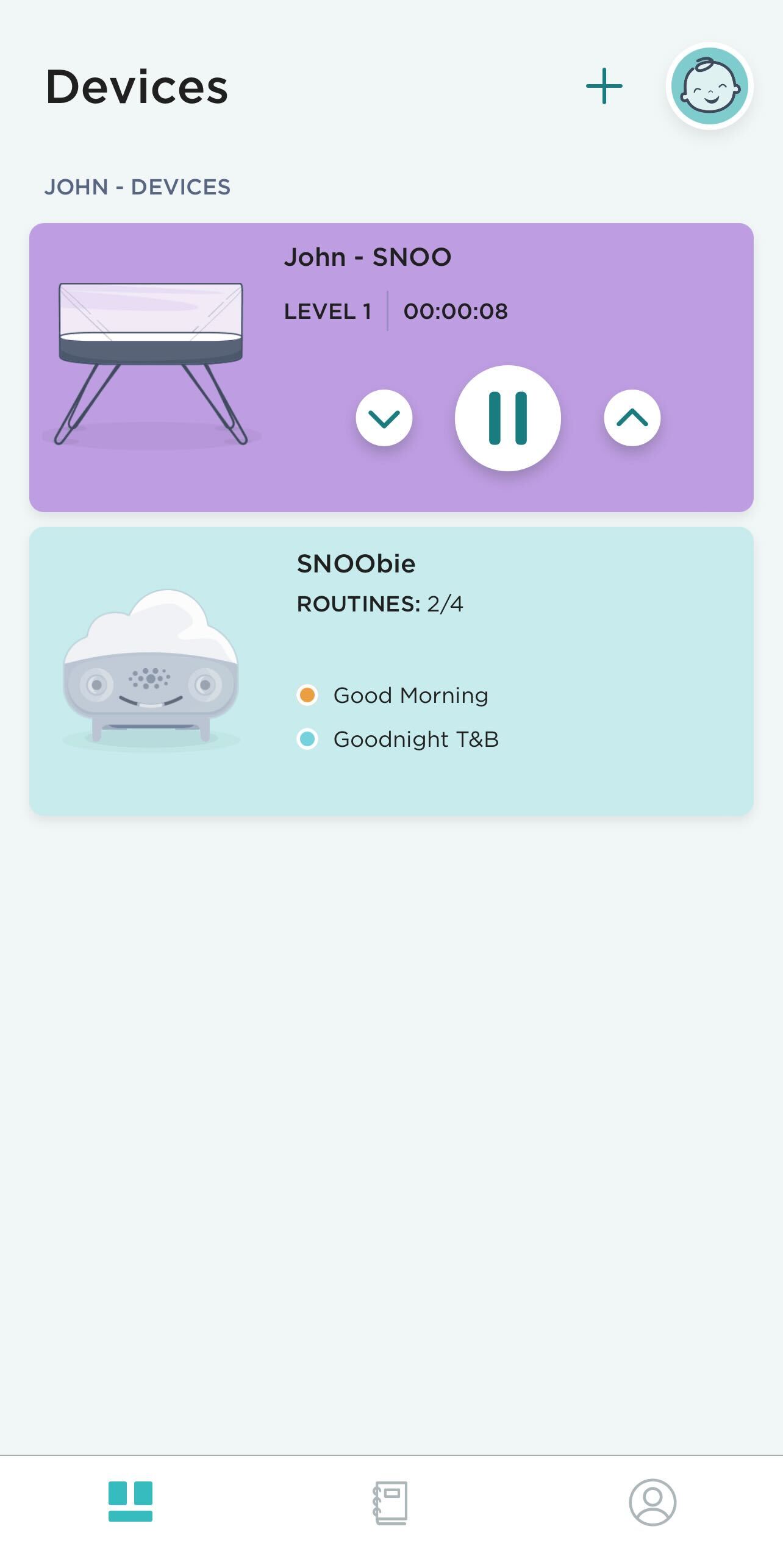 All paired devices are visible on the App home screen: Devices. From there, you can either control devices via small widgets from the Devices list, or you can access a device's control dashboard by clicking on it in the Devices list. 
SNOO Dashboard allows you to start and stop sessions, change levels, lock on a level, or turn on Sleepytime Sounds. You can also check the top right indicators to see which SNOO Modes are enabled.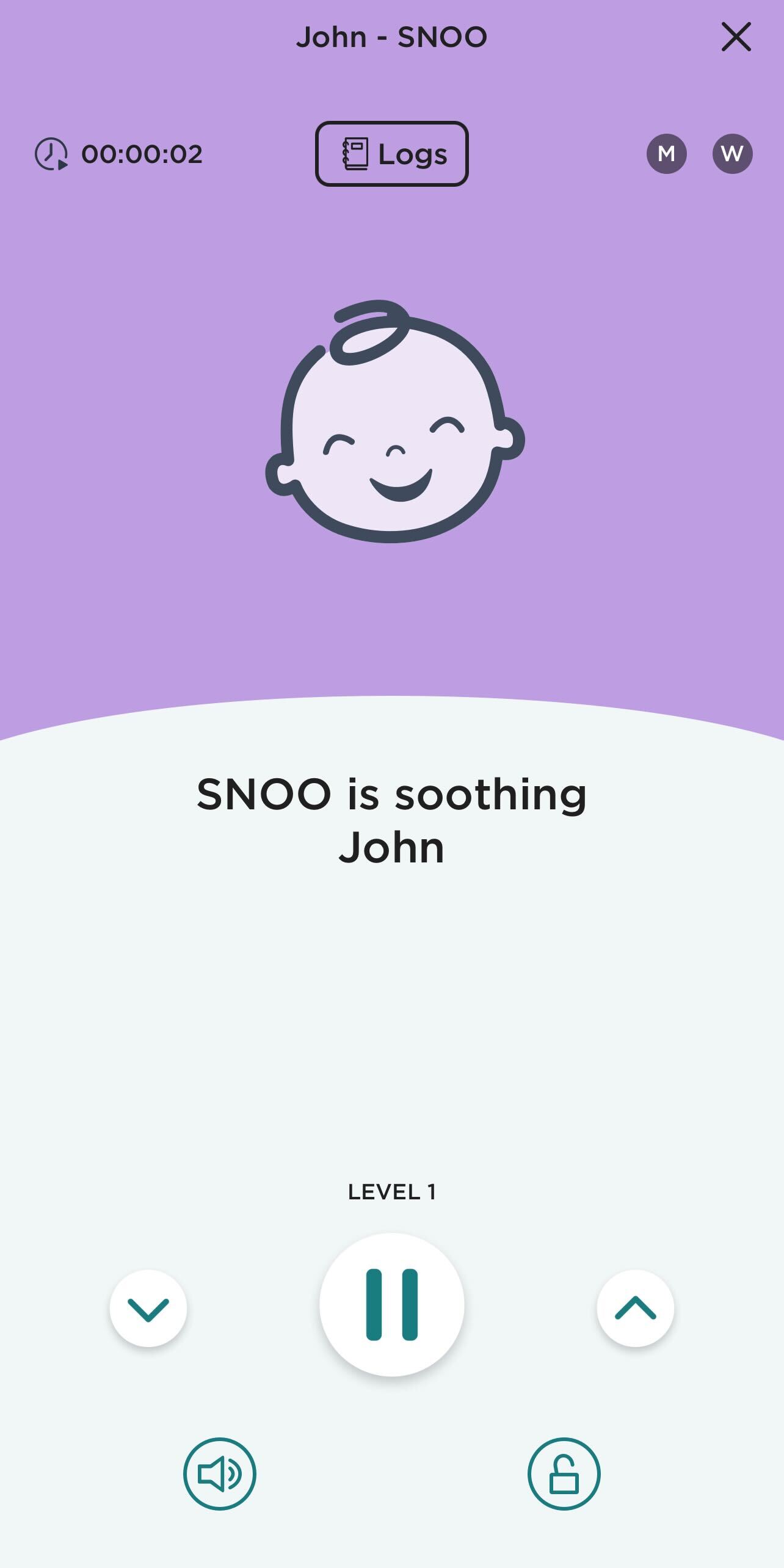 SNOObie Dashboard lets you preview all routines you've created, and also add new ones by tapping on the Add Routine button.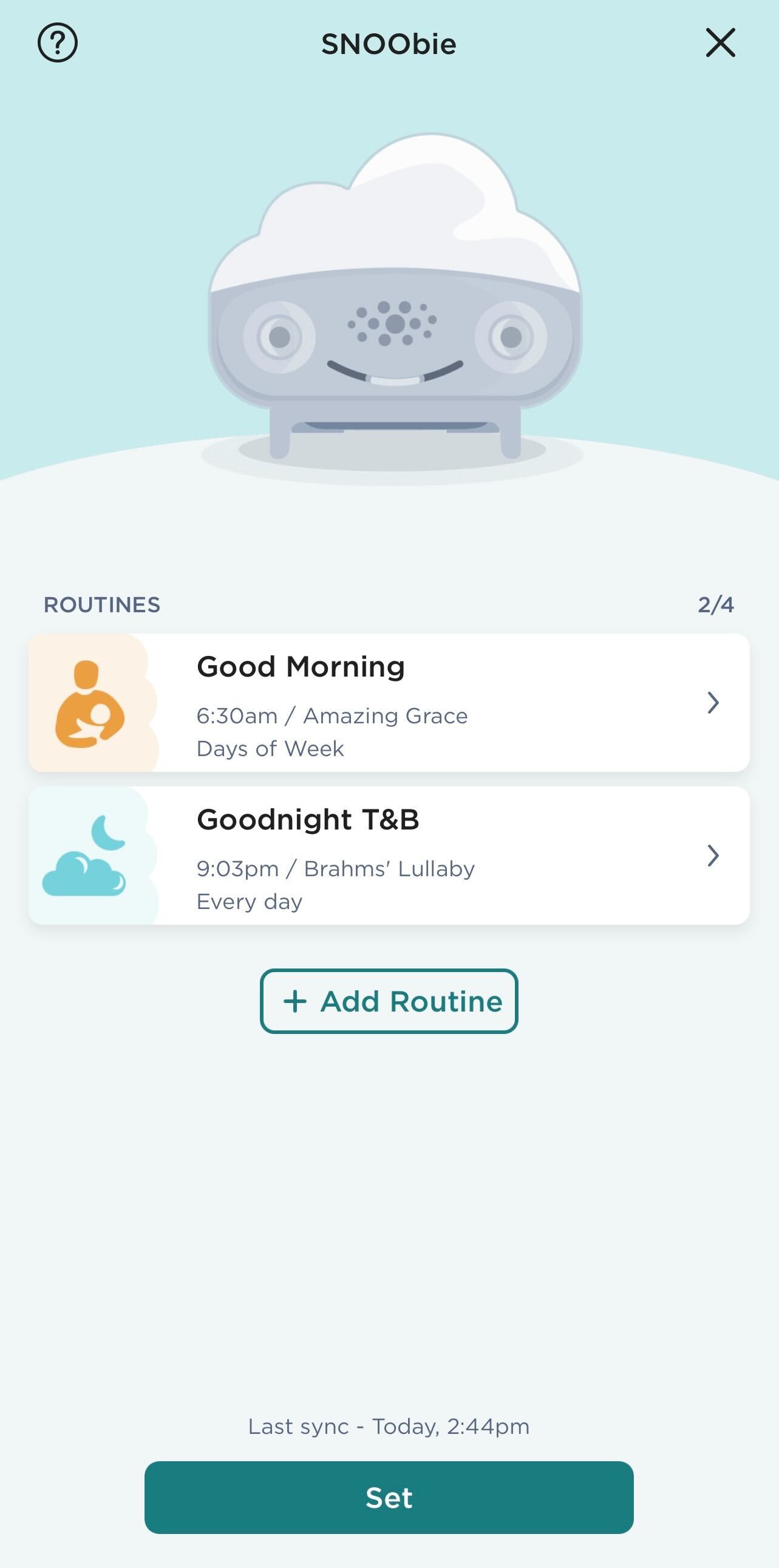 The App bottom navigation menu helps you navigate from the home screen to the Sleep Log tab, or to your Profile to adjust settings, get support, and more.
The Sleep Log tab lets you track your baby's sleep patterns on a daily and weekly basis, and provides a summary of all sleep sessions during a specified week. Toggle between the three overviews available on the top right:
Daily Overview
Weekly Overview
Summary
Select a specific day or week to see your little one's sleep sessions within each overview.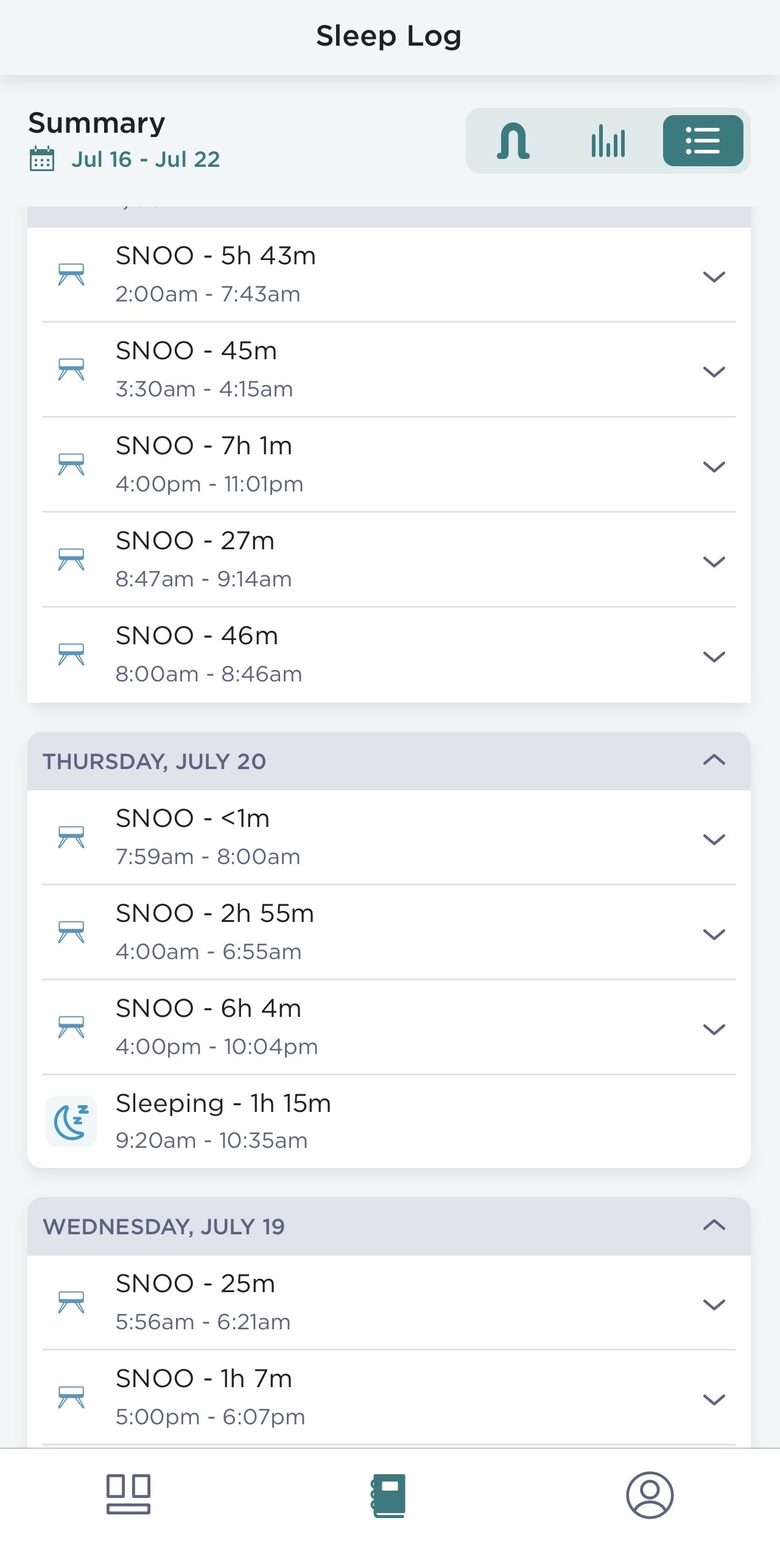 Double tap on the Daily Overview to enter Zoom Mode for the chosen date and see your baby's sleep sessions in more detail.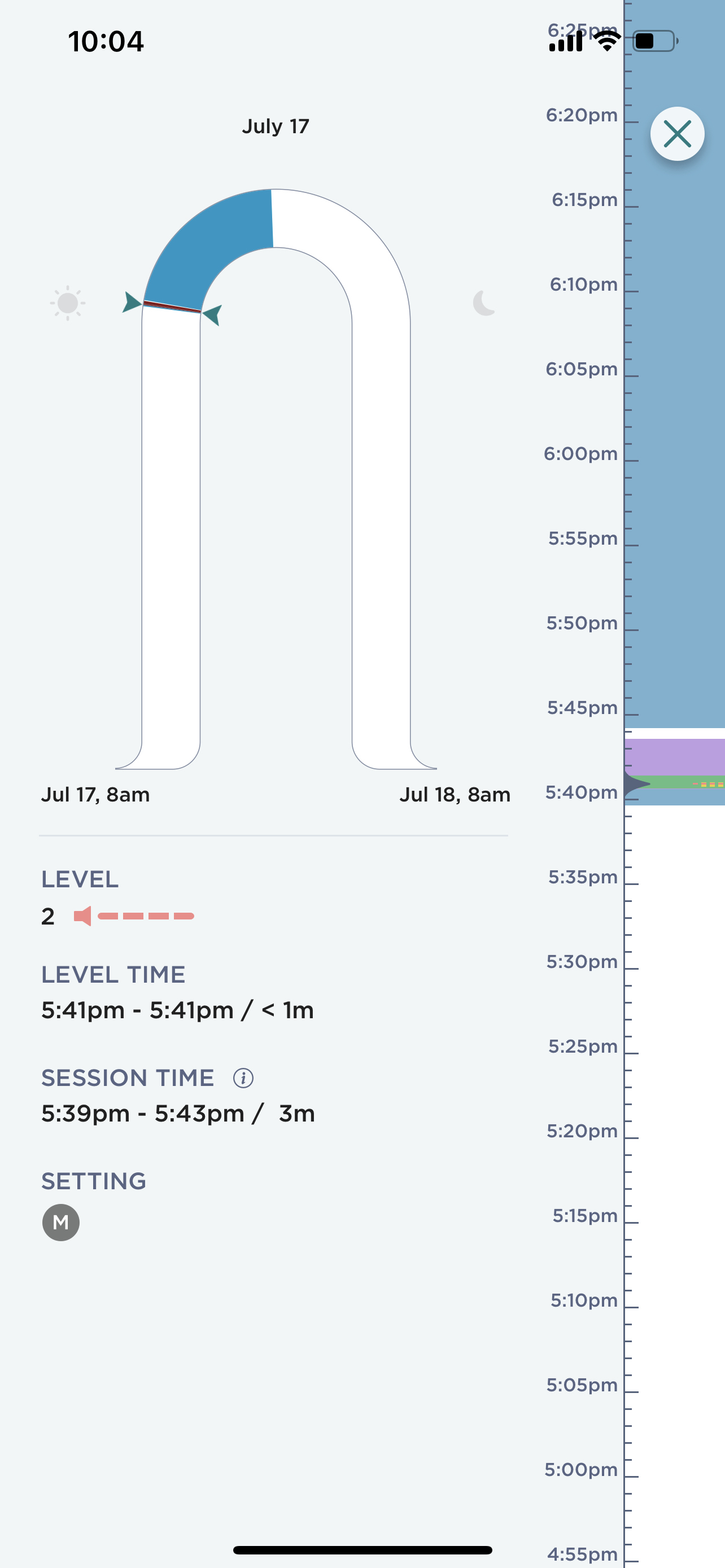 From the Profile screen you can navigate to different device settings, general App settings, and Account settings.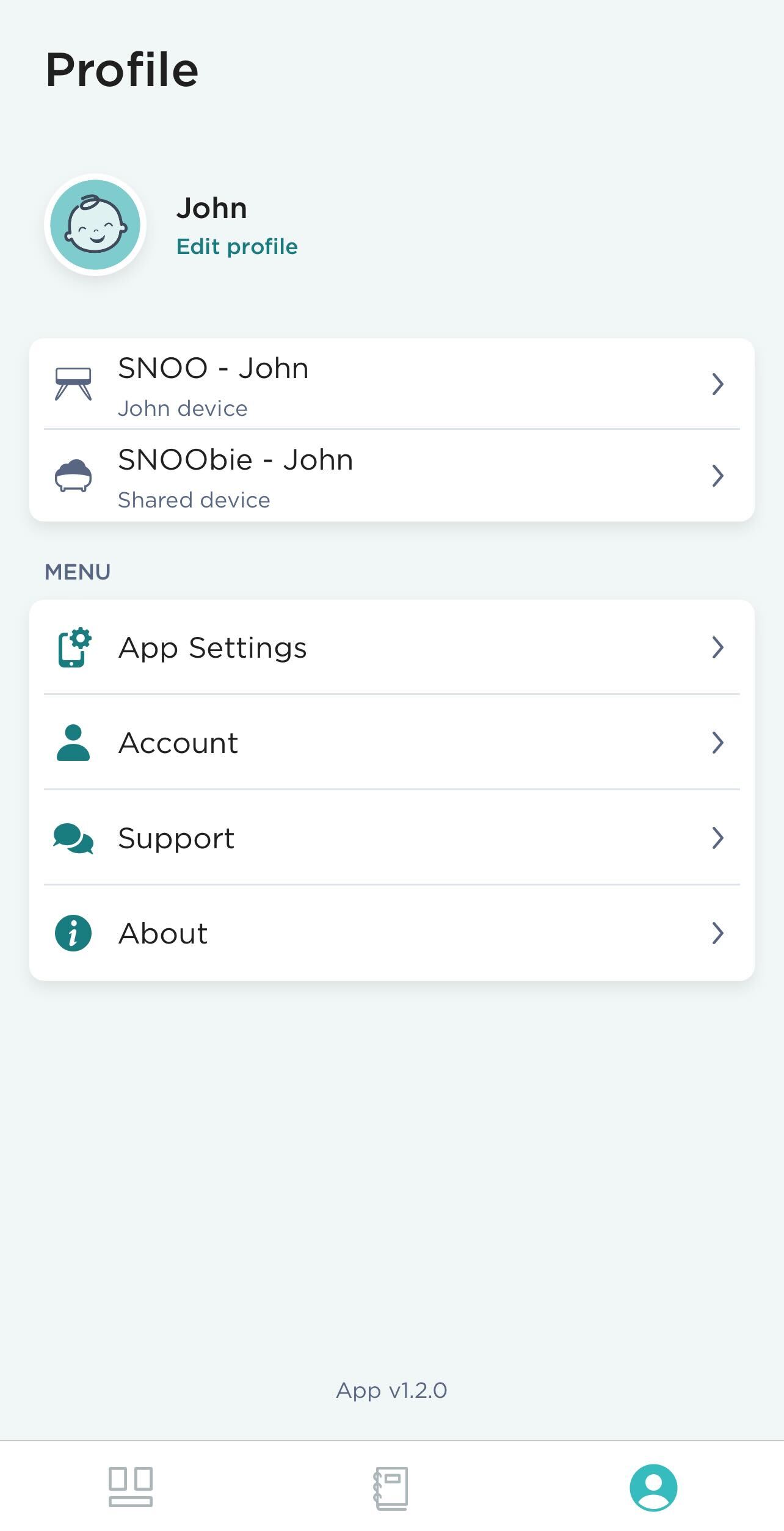 On the top of the Profile screen, you can edit your baby profile.
On your SNOO Device screen you can manage different preferences and modes, track wireless quality, change network settings, or unpair SNOO.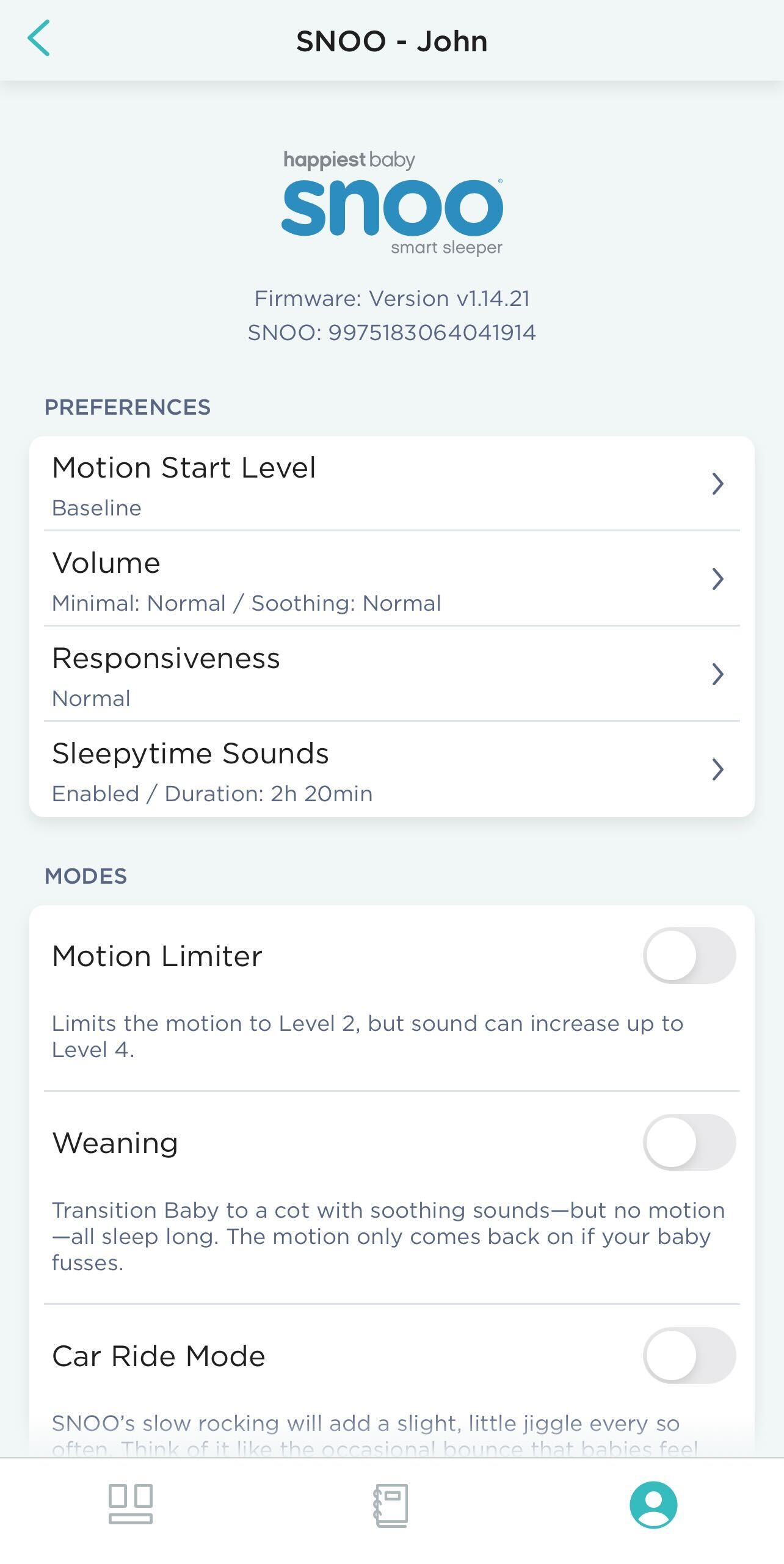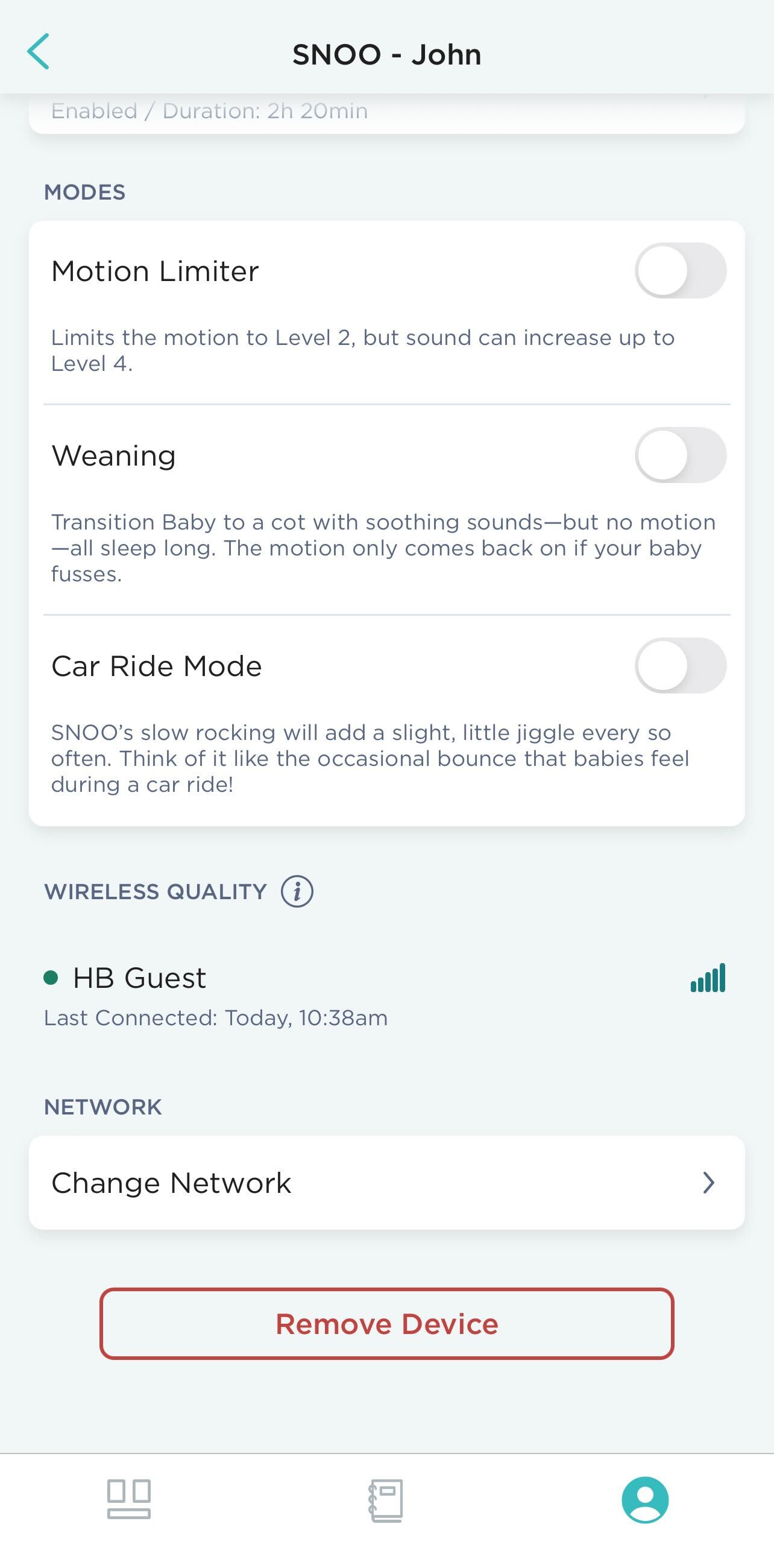 On your SNOObie Device screen you can change the device name or unpair SNOObie.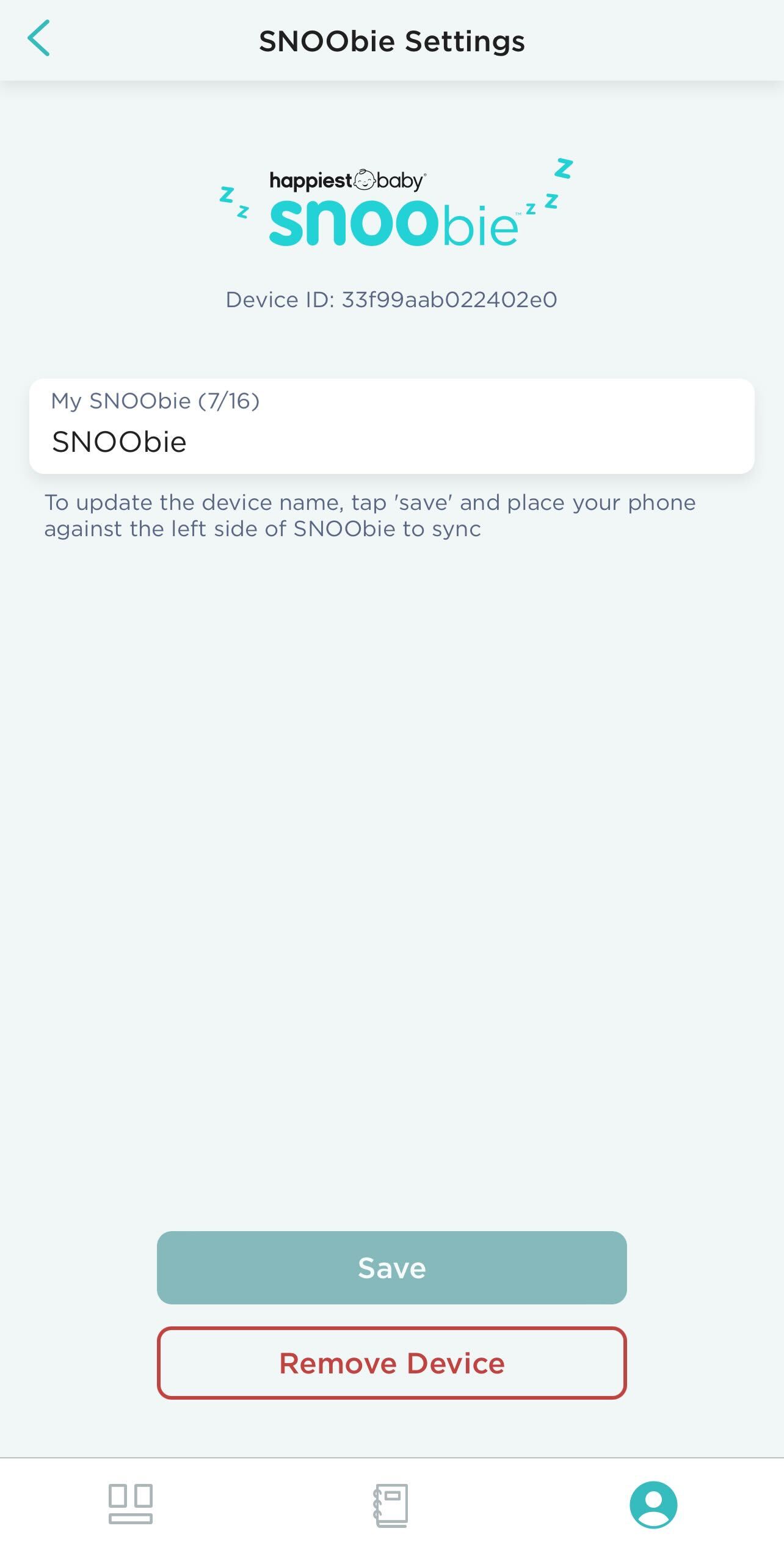 On the App Settings screen you can set the Day Start—the time you want the day to begin in your overviews to fit your routine. You can also set notifications preferences, which will be available once your SNOO is paired.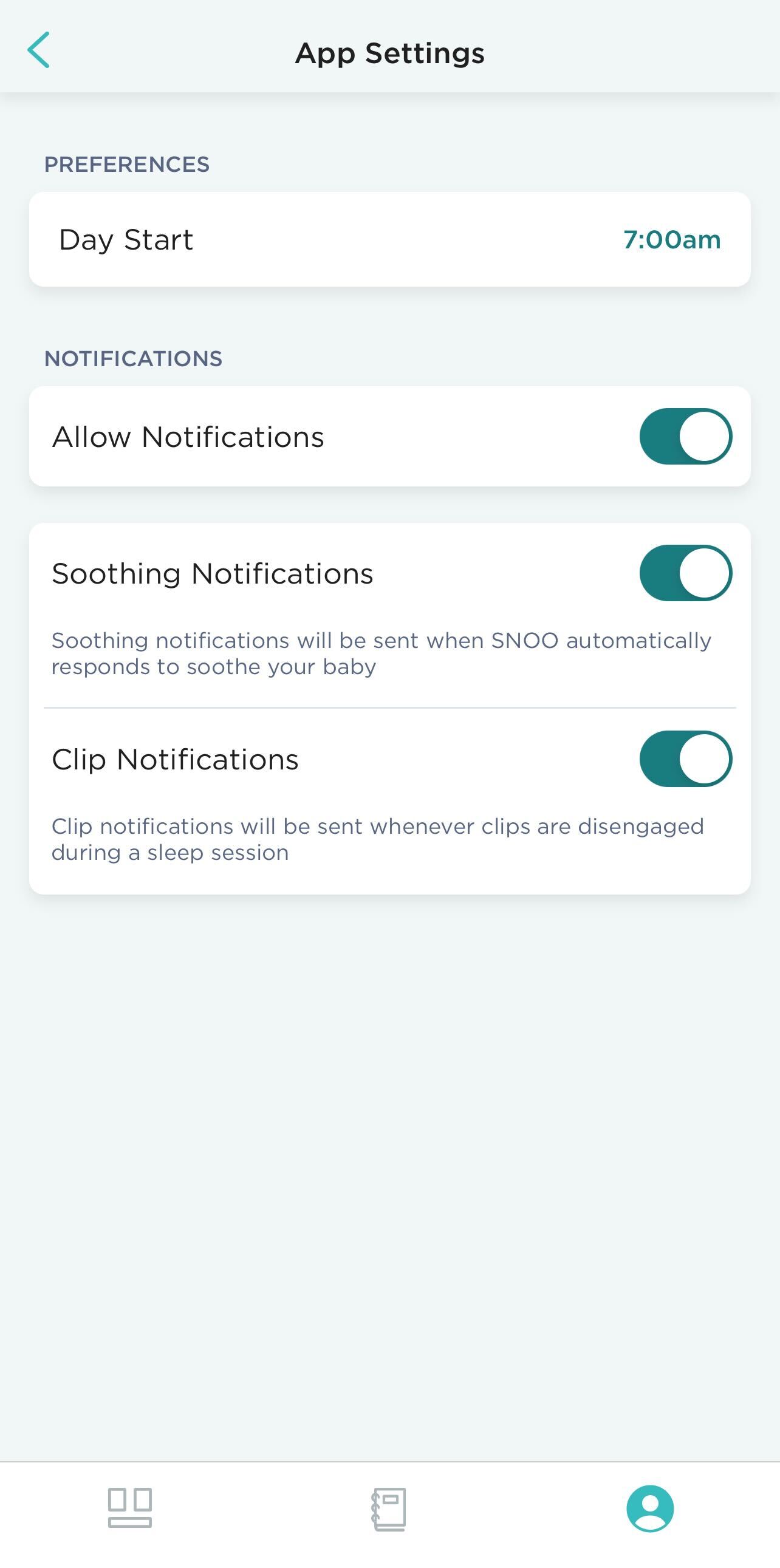 On the Account screen, you can preview and edit your first and last name, and grant other caregivers access to your account with the Share Account feature. This will generate a QR code that others can scan to log in without needing your credentials. Note: Sharing your account via QR code grants full access to your account, so be sure you only share it with trusted people.
From the Account screen, you can also change your password.
On the Support screen you can navigate to FAQs, Contact Us, or head to our website.
On the About screen you can view our legal policies and manage your data collection